Made in France, wallpaper in 2015
Wallpaper is currently emerging from a long period of exile … The height of fashion in the 1970s, it then suffered a slow decline. Most French wallpaper manufacturers closed their doors in the 2000s.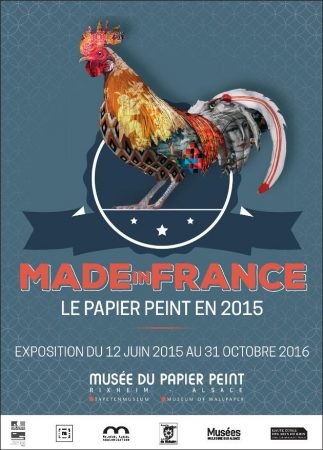 However, the situation has changed considerably over the last few years. Wallpaper is coming back into fashion; publishers are placing their trust in the creativity of designers, artists and photographers who are using it as a medium for expression. People are no longer afraid of patterns and colours; wallpaper is allowing us to personalise our interiors with unique panels or panoramics covering a single wall. Those responsible for public spaces, hotels, restaurants, shops, banks and offices are choosing strong patterns to give greater individuality to their surroundings. The possibility, now being offered by publishers, of reworking the chosen design in terms of detail, colour or dimensions, guarantees a certain exclusivity. In addition, the emergence of digital printing has made it much easier to produce high definition quality from literally any file.
Television programmes devoted to the home are multiplying; interior decorating magazines are seeing their sales take off. These media follow fashion but also dictate which trends and brands are the latest "must-haves".
This exhibition presents 34 companies operating in the wallpaper sector in France, one of which is a sampler manufacturing albums and sale catalogues. Some of the publishing houses are symbolic of French-style luxury. Others are start-ups that have only been on the market for a few years and are counting on the development of digital technology. Craftsmen have been enjoying much greater recognition in recent years due to media interest in their expertise and the acquisition of labels. Selling is still carried out in some interior decorating shops and by major DIY and decorating retailers but also increasingly on the internet; on manufacturers' websites or those offering fashionable décor and objets d'art. Young
entrepreneurs, receptive to the wishes of the consumer, know how to coordinate their advertising on social networks. They often provide a personal blog with links to "trend scouts" thus allowing them to provide information while at the same time improving their search-engine listing. Today, the mastery of communication tools is just as important as the number of patterns on offer and the creativity of their
design.
Scientific Curatorship: Isabelle Dubois-Brinkmann, Curator of the Rixheim Museum of Wallpaper